A Graduation for the Ages
A medical graduation reflects Brazilian society's structure, desires and priorities
Estado de Rio Grande do Sul, Brasil
2018
The party was anticipated years and for some decades in advance, and the day finally came. Paulo is graduating from medical school today.
Family arrived from up to eight hours away for the weekend celebrations in Pelotas, a city in the far southeast of Brazil. Forty or so family members came. Those without nice suits or dresses rented them. The party lasted all weekend so a minimum of two nights in a hotel was a necessity for all. The women went to get their hair done for 40 dollars each the morning of the graduation ceremony. They could not say no to the hair salon, for the graduate's grandma made the reservation for them to go as a group. In Brazil, where the minimum wage is under 400 dollars a month, some family members with lower paying jobs were making sacrifices to attend this event. But it was a medical school graduation for a family member. The sacrifice needed to be made.
A friend Carla, from a different region of Brazil who is a medical student, says that few question the expectation to throw a massive party at graduation. Families expect to be able to show off their medical school graduate and want their extended families to come. The cost of a party might be excessive for all, especially the graduate given they must also host a dinner for the family. For this, people start saving years in advance to pay for this special day. Carla tells me that only elite fields — and especially medicine — have such a large celebration.
I ask Carla if the excessive celebration has anything to do with the recent expansion and novelty of higher education. As of 2021, only five percent of Brazilians had a university degree. This itself is far higher than 20 years ago. Of this five percent, very few are doctors. Yes, Carla says. In other words, a university degree, especially in medicine, is truly an elite marker. The world needs to know.
After having dinner and drinks the night before the graduation, the extended family wakes up slowly from their hangovers and full bellies to go to the breakfast buffet at the hotel. Most family members took full advantage of the all you can eat feature, stuffing themselves in preparation for the big day. No one knows how long the graduation would take. More importantly, an all you can eat buffet is something too good to pass up in any circumstance.
Members of the family love to eat and did not like to move. Two cousins and one uncle of Paulo, the graduate, had liposuction surgery due to their obesity. Safe in the idea that liposuction was an option if necessary, the brothers Daniel and Jao said that if their weight became too much of a problem, they could simply follow in their cousin's footsteps. Daniel, over a full plate of breakfast meats and cheeses, says that his growing belly was a genetic issue. Jao, a few years older and with a larger belly, fully concurs. "Look at our family. My cousins, my uncle, my father," says Jao. The way to fight genetics was with surgery, not a change in lifestyle, was the implicit message. Lifestyle cannot conquer genetics, only modern medicine can.
I look around the buffet dining hall and noticed that most of the people in the room were white, overweight, and relatively well-dressed. Moreover, they are staying at a 100 dollar a night hotel, a large sum in Brazil. Brazil is a very overweight country. The rich and aspiring rich eat too much and move too little. The streets and parks are deemed unsafe, and the television and air-conditioning is always on at home. The poor eat too much low-quality food and also move too little; their streets are even more dangerous and they also have their televisions (even if they may not have air conditioning). The results on the body are the same.
Daniel and Jao's mother, the grandma of Paulo the graduate, sees this day as her dream come true. Jao, Paulo's eldest, did not go into an elite field but rather became a police officer to follow in his father's footsteps. Although Daniel did become a lawyer, grandma was always disappointed that Jao did not enter an elite field. Paulo's graduation redeemed the family after Jao's disappointment, Jao's wife dryly remarks to me.
During the ceremony, grandma cries tears of joy. Grandma says to me, "I could not be prouder." The parents of Paulo are equally thrilled. A week prior to the ceremony, they commissioned photographs of Paulo and the immediate family. Paulo was dressed in his graduate garb. His parents and brother donned fancy clothes. The pictures were already framed and ready in grandma's house before the ceremony.
The ceremony itself is like a high school prom meets a pre-game football spectacle. Many families rent limousines and buses to transport their crews. All are dressed to the nines and the women have their hair done. I note a couple exceptions to this rule out of what appeared well over a thousand people.
The corridor to the auditorium where the ceremony is held had a red carpet. In the auditorium itself, there are rows upon rows of see-through chairs which, from far away, look like glass. However, a closer look shows that they were plastic chairs meant to look like glass chairs. Plastic chandeliers hang from the ceiling.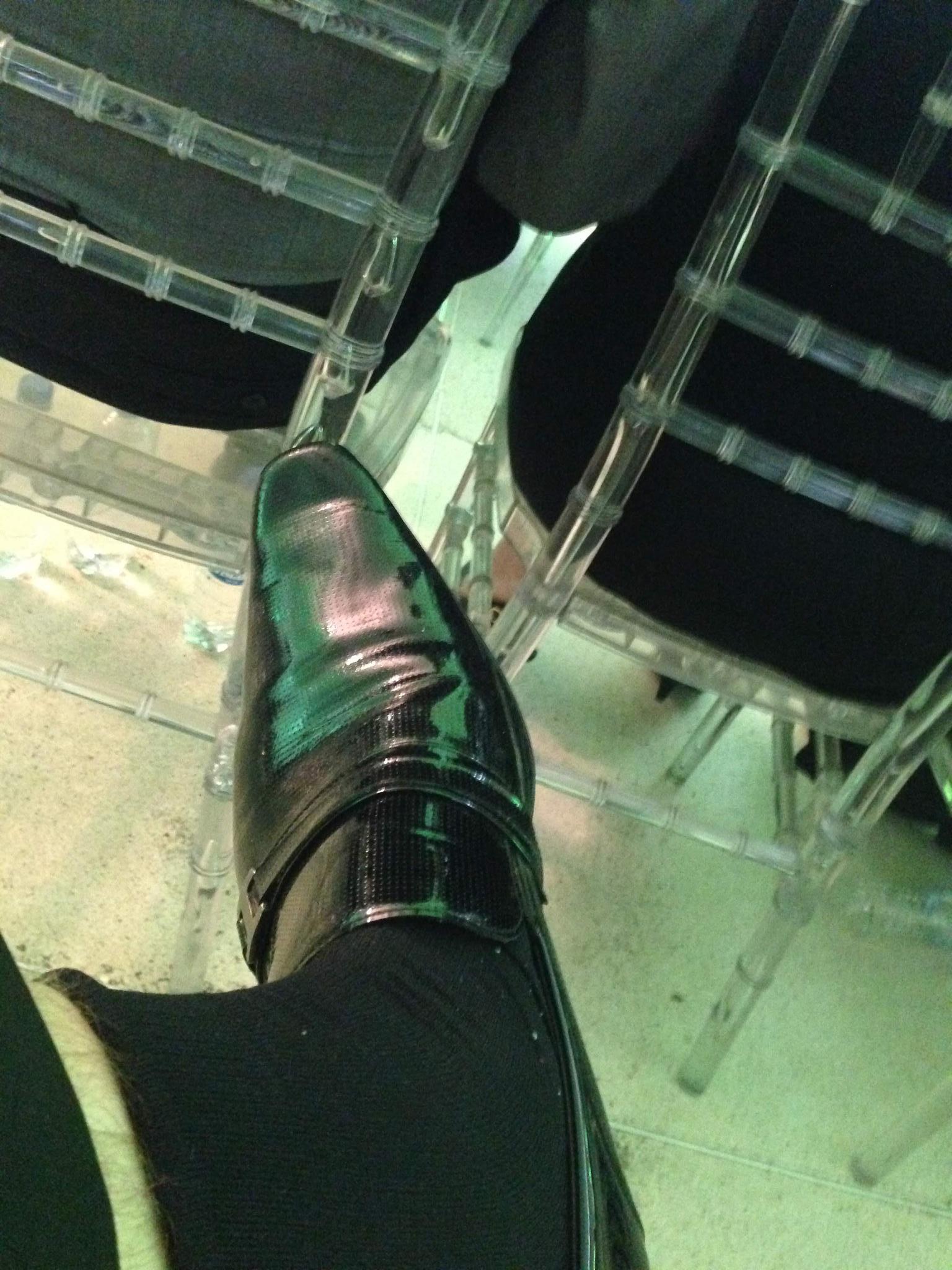 In the back of the auditorium, prior to the ceremony, the new arrivals take pictures as families. Again, memories of formal high school dances continued to pop into my mind.
Once the ceremony finally starts, the graduates file together through the column between the rows of chairs to aggressive, celebratory pop music. The crowd hoops and hollers, often blowing horns. Memories of an NFL pre-game announcement of the starting lineup come to mind.
Once situated on stage after their walk of glory, each graduate has their name called one by one. Their parents come on stage and hug them. The graduates jump up and down, like they scored a touchdown. During this time, a song they chose plays for 90 seconds. There are over a hundred graduates. Our man Paulo's last name is well after the middle of the alphabet. We must wait it out.
As the plastic "glass" chairs start to hurt my behind, I wander outside to stretch and buy a snack. As I walk past the restrooms, I see the janitors. They are black. With two exceptions, these janitors are the only black people at this graduation. Over half of Brazil's population is black or partly black but not this medical school.
Finally, our man does his celebration and we can all leave. Oh, thank god he was not a "z" surname. We head to a restaurant rented by Paulo's parents for the evening. The time is 7:30 pm. I have not eaten a meal since breakfast. People are restless and start drinking beer and eating appetizers. However, dinner will not be until 11 pm. I think we have identified another cause of obesity: late dinners. I find late dinners common in many parts of Latin America but heavier and even later in Brazil. 
The appetizers keep me from further hunger. My wife and I hungrily eat our 11 pm dinner, almost falling asleep in the process. Everyone else is well on their way to a happy night of drinking. We order an Uber and head back to the hotel, the first to retire. As I drift to sleep with a full belly of Brazilian churrasco (BBQ), I wonder what costs more — a medical school graduation, or a wedding.