Cisterns Transformed Brazil's Northeast ... Until a New Government Slashed Funding
The current Brazilian government's neglect of a successful water program has increased hunger 
People are collecting muddy water in jugs from pools under a beating sun. They put the jugs on their heads and walk a few kilometers. Once home, they must cook the little food they have with firewood as there is no electricity. The floor is dirt.
Outside one of the homes, children are gathered and give the vacant look of hunger. Their fathers are farmers who cannot plant crops because the region is in a multi-year drought. There is no water source and so all he can do is hope for rain. One farmer relates that he has sold his animals recently and will sell his land, too. He cannot survive and support a family in this environment. Countless farmers are leaving for Brazil's cities because they can no longer survive the multi-year drought. The above scenes are from TV Viva's 1991 documentary Seca about the drought and famine in the early 1990s in Brazil's northeast, or nordeste.
Farmer José Severino, from the interior of the state of Pernambuco in the nordeste, was a child during the drought of the early 1990s. He left with his family to cities in the nordeste in search of work. While in the city, he dreamed of returning to the countryside. "We did not know how to live in the city. Everyday all I wanted to do was return to the countryside," José told Stories of Latin America in January 2021.
After the end of the multi-year drought in the mid-1990s, José and his family returned to their land and continued farming. For years, he and his family barely scraped by and depended upon irregular rainfall to grow crops. Running piped water was and remains a pipe dream. What they grew they ate and rarely was there enough left over to sell.
This difficult existence changed for good in 2018 when a man arrived asking if they were interested in receiving a large cistern provided with funds through the Brazilian national government for low-income farmers and administered by local agricultural organizations and the regional NGO Articulação Semiárido Brasileiro, or ASA, which fights for water access for small-scale farmers. The project, called Um Milhão de Cisternas, attempted to expand water access through cisterns. Given José's family's income level -- well below minimum wage -- they easily qualified for the free cistern. The cistern collects rain during the three months of consistent rain to use during the nine months when rain is rare.
The cistern completely changed José's life. Able to store enough water to water his crops year round, he and his family were able to grow enough food to not only feed themselves but also sell in organic markets in nearby population centers (he uses no agro-toxins on his land).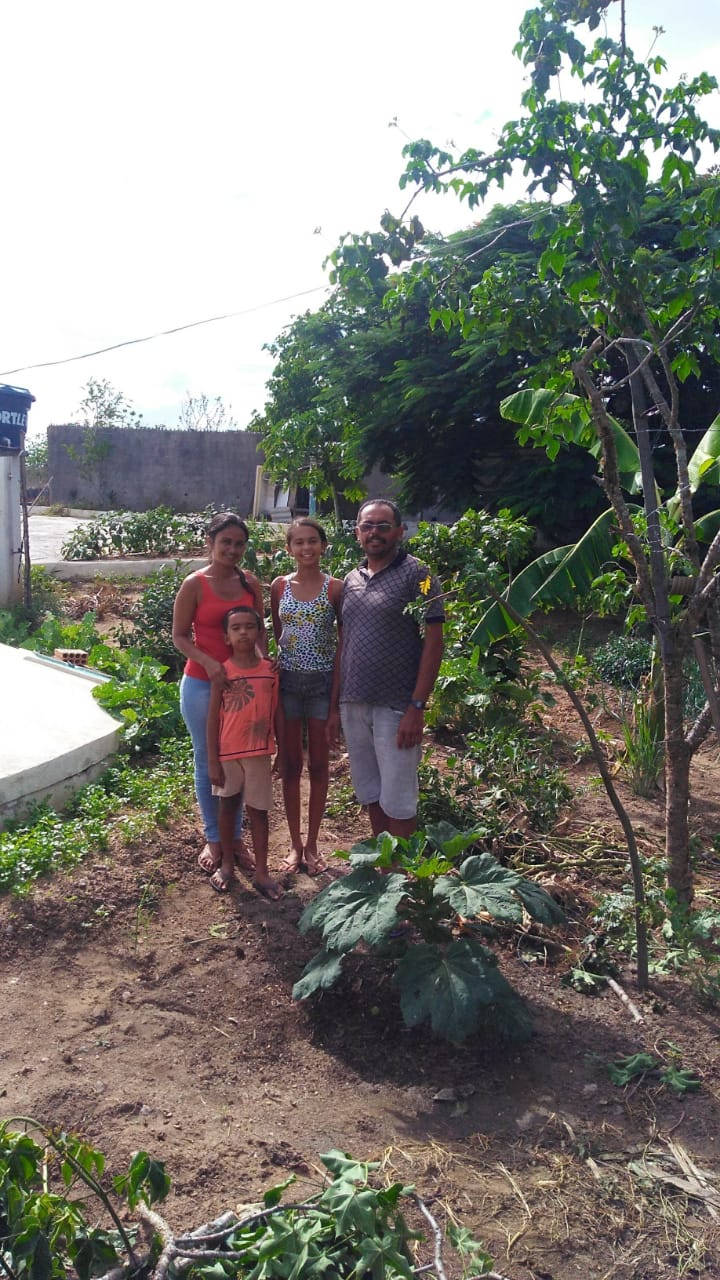 By selling his excess produce, José now earns around minimum wage. To an American, this may sound small but consider that in Brazil around half the workers earn less than the legal minimum wage (in part because so much of the economy is informal). Minimum wage is an achievement of which to be proud.
Analice Esperança is another farmer from the nordeste who qualified to receive a free cistern. Like José, Analice struggled to grow crops without a water source. The food was not enough to meet her family's nutritional needs. As such, she had to use the little money her husband earned as an intermittent laborer, combined with her government low-income cash subsidy called Bolsa Familia, to buy food. The food Analice could afford was often, in Analice's words, "full of poison" (meaning heavily fertilized).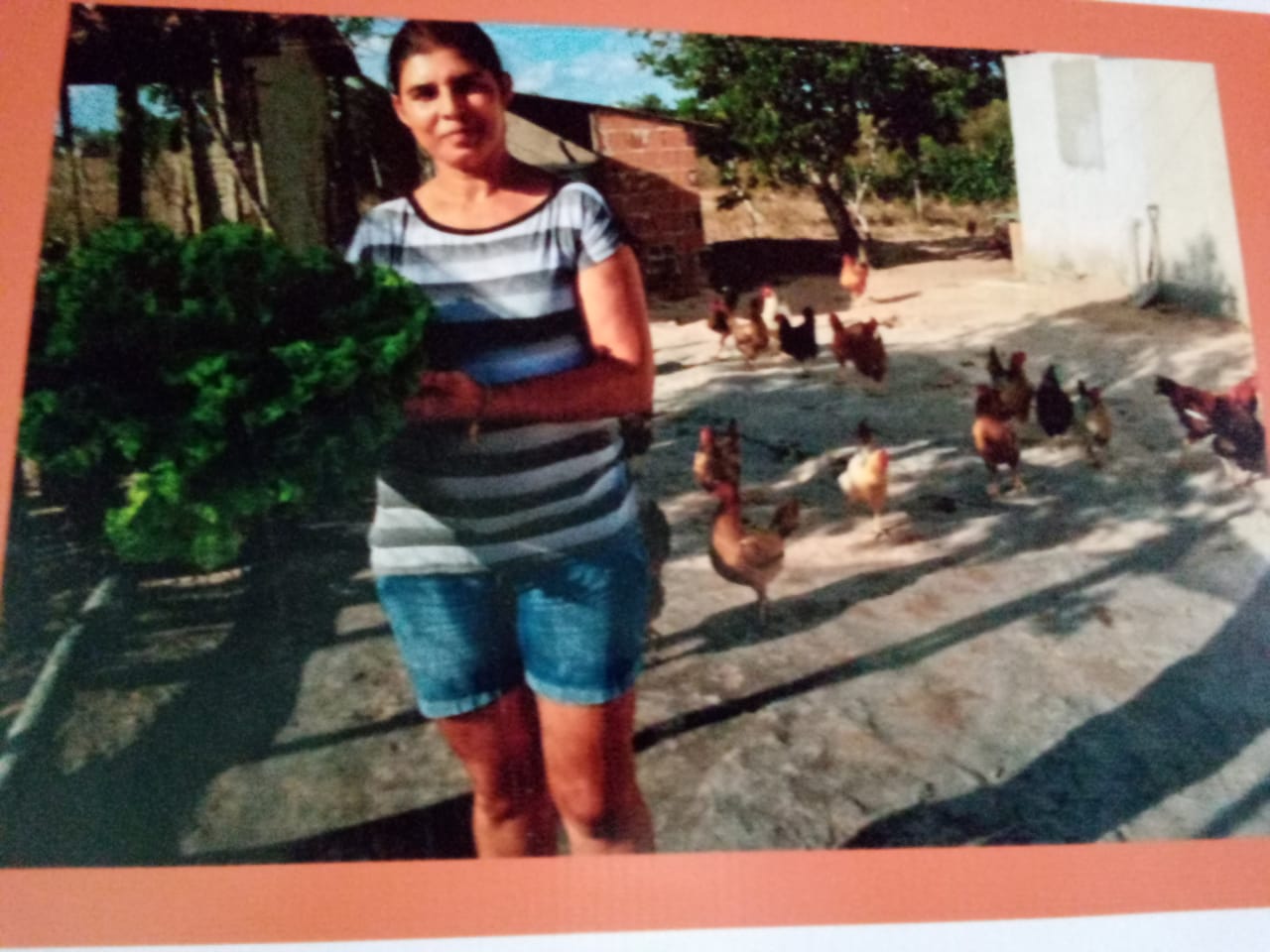 Prior to receiving the cistern, Analice walked 2-3 kilometers one-way to get water. Because of the heat, she had to leave at 4 am and, when she was a young mother, had to bring her baby with her as she could not stay alone. Carrying jugs of water home with a baby on her back was exhausting.
With the cistern she and her family obtained in 2018, gone were the trips to fetch water. Analice also greatly increased what she could grow. She can grow crops year round and has so much food she can sell to neighbors and in a local market. In addition, prior to the cistern she only grew corn and beans; now, she grows a wide variety of vegetables and also raises chickens. The food is free of "poison" (fertilizer).
Like José, Analice now has a minimum wage thanks in part to the cistern. She cobbles together her earnings from the food she sells, Bolsa Familia, and her husband's odd jobs. She uses part of her money on house and farm improvements.
Both José and Analice call the cisterns "miracles". There is a neat division in their lives between before the cisterns and after. They live healthier secure lives. They have become thriving business people. José's and Analice's neighbors are jealous of their cisterns and want their own. They see how José's and Analice's lives have improved. José and Analice, however, were lucky.
Funding for cisterns has dried up under the Bolsonaro government. According to Alexandre Henrique Bezerra Pires of the above-mentioned ASA, in the 1990s and and the first decade of the 2000s organized small-scale farmers aided by ASA secured government attention to the plight of farmers in the nordeste. This attention led to government funding for water projects like the above-mentioned Um Milhão de Cisternas. Luis Ignacio Lula da Silva, known popularly as Lula, supported water projects for small-scale farmers which continued under his predecessor Dilma Rousseff. In the mid-2010s, however, with Rousseff's impeachment and removal from office government support started to decline and then evaporated under Bolsonaro.
In place of support for small-scale farmers, Bolsonaro's government delivers tens of billions of dollars in subsidies to large-scale agribusiness. As Alexandre of ASA states, it is not that small-scale farmers want to kill all government support for agribusiness. Rather, ASA and other organizations that represent small-scale farmers simply want equality in access to government resources and support.
Support for small-scale farmers is all the more important given that they supply 70 percent of Brazil's internally consumed food. While Brazil produces enough food to feed over a billion people, much of what comes from large-scale producers is exported. When small-scale producers were better supported until the mid-2010s, Brazil left the UN's hunger map in 2014 (the Hunger Map includes countries with levels of poverty and food insecurity of higher than 5 percent; those nations not on the Hunger Map have low to non-existent food insecurity and tend to be high-income nations). With neglect of small-scale farmers -- both in the withdrawal of support for the building of cisterns and the lack of infrastructure to bring farmers' products to market (especially during the Covid-19 crisis) -- Brazil is now back on the UN's hunger map.
The reduction in government support for small-scale farmers has not only increased the number of Brazilians suffering from hunger but also threatened the economic advancement of the entire nordeste. Historically, the nordeste has always been economically one of Brazil's poorest regions. As Alexandre of ASA says, the rest of the nation sees the nordeste as a deficient region defined by what it lacks. During my travels in southern Brazil -- an economically stronger region -- I commonly heard people call the nordeste a land of lazy people who depend on the government.
Alexandre emphasizes, however, that the people are not lazy; rather, the government is neglectful. Historically the nordeste is also one of the most neglected regions in Brazil. The fact that many people still lack running water in the region -- while the country as a whole has experienced significant economic growth -- is proof enough. Furthermore, the absence of a strong state has not only led to poverty and poor infrastructure but also general lawlessness in parts of the region (as witnessed by the congaço phenomenon and organized criminality in some towns of the nordeste).
The good news is that recent government support until the mid-2010s dramatically changed the nordeste and shows how government aid can positively transform the region. Analice said that improved roads and public transportation access have allowed her children to continue studying well into their teens with the possibility of studying in university. Moreover, the expansion of cisterns in the nordeste has transformed the lives of Analice and José and 1.3 million others. As described above, small-scale farmers have both food and economic security and are able to develop their own small businesses. Unfortunately, those now looking to advance by securing a cistern are no longer able.
The further good news is that the people of the nordeste both want to work and have great productive potential. While Analice receives a Bolsa Familia cash subsidy in addition to her cistern, it has not turned her into a lazy taker. Rather, this aid has given her a dignified life from which she developed a business. Without water, so many small-scale farmers in the nordeste lack a basic starting point to start a business. Additionally, according to Alexandre the nordeste is home to a great diversity of strong seeds which have helped the productivity of Brazil's agriculture. The diversity of seeds are the result of farmers choosing the right seeds that are resistant to tough circumstances. The farmers, in turn, preserve the seeds and knowledge from which they can grow food for millions. 
Brazil's cities also owe a debt of gratitude to small-scale farmers like José and Analice who produce 70 percent of Brazil's internally consumed food. Analice proudly states that because she is a farmer, others have the freedom to be lawyers, politicians, business people, and teachers. The ultimate lesson from the farmers of the nordeste is not to judge them based on the money they make. Judge them by their diligence, fortitude, creativity and importance to the larger society. On these measures, the nordeste is one of Brazil's richest. Brazil will be richer once it gives the farmers in the nordeste the support they need.